Junction RV Park

We do not have an on-line reservation system,
please call the on-site camp host at 435-577-2744 for reservations.
For additional information call 800-576-9980
or email: rfarrar@1horizon.net
Click here to see the current weather in Junction, Utah:
We are located at 6,000 feet elevation in Piute County, Utah
We are a small, quiet RV park in rural Junction, Utah
10 Full Hookups (water, sewer & electric: 6 with 50 amp, 4 with 30 amp)
We have several pull through spaces. Some of our spaces will
accommodate up to 40 foot RV's or trailers.
For self contained only, (no restrooms or showers).
See park map at this link:


We are currently closed for the winter.
We are looking forward to next season and another
great summer here in beautiful Junction, Utah.
We will reopen in mid May, 2022.




WE OFFER DAILY, WEEKLY AND MONTHLY RATES
Please check our rate page as our rates increased at the beginning of the 2021 season.

**WE DO NOT TAKE CREDIT CARDS, WE ACCEPT CASH, CHECKS OR ZELLE ONLY**
Note: Zelle is new for us this season. If your bank allows Zelle transactions,
you can pay using that method. See the Camp Host for additional information
or contact your bank or Zelle at the link provided (click here)
**(free winter 'in space' storage, see below)**

145 W. Center Street, Junction, Utah, 84740
Highway 89 to Junction, Utah, west one block on Center Street (Utah Highway 153)
Junction is the County seat of Piute County, Utah




JUNCTION RV PARK: Is a small facility intended for self contained RV's. We do not have restrooms or shower facilities. There is a gas station/convenience store one block away on Highway 89 (they also have diesel fuel) and a well stocked small grocery and general store across the street from the gas station. The nearest restaurants are in Circleville about six miles south on 89. More restaurants and services are located in Marysvale about 15 miles north on 89. You can also purchase propane at the RV park in Marysvale. Shopping is available in Richfield about 45 miles north on Highway 89 and Interstate 70 (Home Depot, Wall Mart, Ace Hardware, Tractor Supply, IFA, etc.). There is a another local hardware / grocery store in Circleville. There is a grocery store (with meat market) and more restaurants located in Panguitch (about 35 miles south on Hwy 89) as well as other shops and stores.

LAUNDRY FACILITIES:

We now have a small laundry (one washer and one dryer). These are not coin operated machines. We charge $1.00 per load

for either the washer or dryer and you will need to see the Camp Host for access.

There are also laundry facilities at

Lizzie and Charlie's, the RV park in Marysvale (15 miles north on Hwy 89). They allow our guests to use either of their two facilities. Both of their laundry facilities are open 24/7 and the machines take quarters.



FOOD:

There is prepared food available at the gas station one block east of the RV park. They have a few small tables but no table service. Here is their menu: (click here). There is a restaurant in Circleville, six miles south on US 89. You can visit the web page of the Butch Cassidy's Hideout Cafe at the link provided. There are two restaurants in Marysvale, 15 miles north on US 89 as well as Hoover's and Big Rock Grill five miles north of Marysvale.
INTERNET ACCESS: Junction RV Park has Internet access (DSL WiFi). There is no charge for this service, however, our ability to provide technical support is limited. You can obtain the network name and password from the camp host. If for some reason the signal isn't strong enough to reach inside your RV, you can most likely get a signal outside at the picnic table. The wifi antenna is located in the window next to the back door of the old cafe building.



CELL PHONE SERVICE:

Cell phone coverage has been a problem in Junction and the surrounding areas. Recently,

VERIZON WIRELESS

acquired the local cell phone provider (South Central Communications) and all their cell phone towers and equipment. If you use Verizon as your cell phone provider, or your cell phone provider has roaming agreements with Verizon, you should now have phone coverage in Junction.

LAND LINE SERVICE / HIGH SPEED INTERNET: If you plan on staying for a month or more and would like a land line for reliable phone service (and/or high speed internet), we are equipped to offer this service. You would need to contact the local phone company, South Central Communications at 888-826-4211 and make arrangements to start service at your space in your name. The local SC technician will hook up the dial tone to our box and we will run a phone cable to your trailer or motor home. This service is only available in the spaces in the back row.





TELEVISION: Junction has great OTA (over the air) TV reception. There are probably 20 channels of high definition TV stations to choose from. If you don't have a roof top antenna and are staying in one of the spaces in the back row, we have a TV connection on the fence. See the camp host for more information.



SURROUNDING AREA:

The town of Junction, Utah is the County seat of Piute County and is located on scenic, historic Highway 89 in Central Utah at 6,000 feet elevation. Highway 89 is the gateway to many Utah National Parks and Monuments including Bryce ( 57 miles), Capital Reef (70 miles), Cedar Breaks (85 miles), Zion (100 miles) the North Rim of the Grand Canyon (183 miles), Arches National Park (210 miles), and Canyonlands National Park (225 miles). All these National Parks and Monuments are part of the Grand Circle of National Parks. Junction is in the heart of this great area.

IF YOU ARE TRAVELING NEAR JUNCTION: Click on this link to find Utah Department of Transportation Road Condition Cameras to see current road conditions. Move the map with your mouse and click on the camera icon on the route you wish to travel. The camera view will appear on the right side of the map and will 'toggle' through several views.



Map of the Grand Circle of National Parks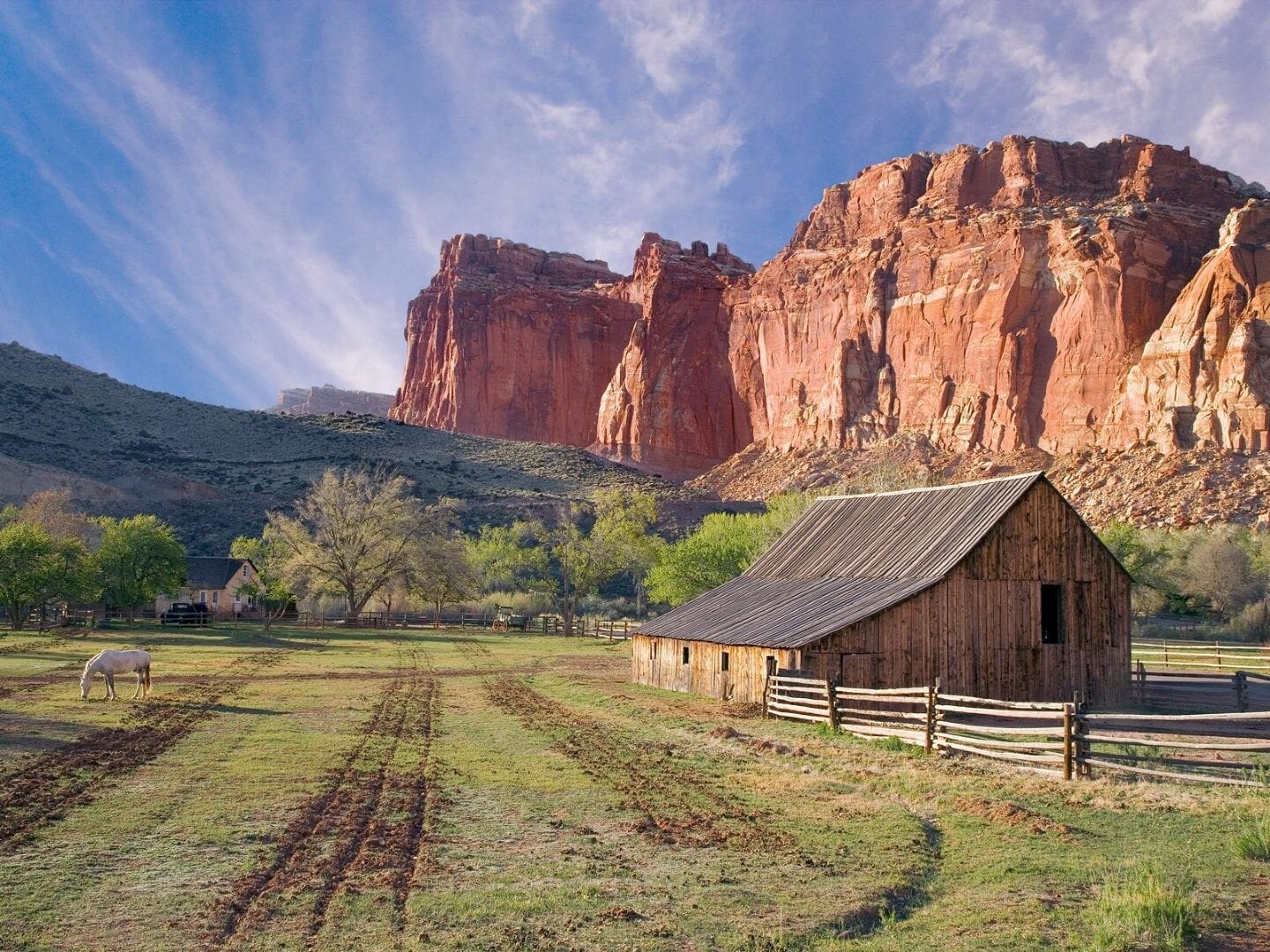 Arches National Park Grand Circle Association



RECREATION ACTIVITIES:

Junction is surrounded by the Fishlake National Forest and other recreational lands. Activities in the area include Hiking, Fishing (Fly fishing guide), Canoeing, Skiing (Eagle Point ski facility), Hunting, ATV Trail riding and bicycling (there are bicycle trails along the Sevier River at Big Rock Candy Mountain). All these recreational activities are local and all are nearby. Junction is a stop on the famous Paiute ATV trail and is centrally located to all riding areas (15 miles south of Marysvale, 40 miles south of Richfield). In addition to the activities in Piute County,

to the south of us,

Garfield County also has as many recreational opportunities. Follow the link to Garfield County hiking, biking, ATV and horse trails. To the north, Sevier County also has many recreational activities: click here for: information and events, click here for: car shows, click here for the annual hot air balloon Festival, and the annual County Fair.

FISHING: There are a number of lakes and reservoirs near Junction that are stocked for fishing including Otter Creek Reservior, Piute Reservior, and Fish Lake. You can obtain a Utah fishing license, either a Utah Resident or non resident, at the Junction General Store one block east at 70 S Main Street, Junction, Utah.



OFF HIGHWAY VEHICLE REGISTRATION FOR NON UTAH RESIDENTS:

Beginning in January of 2020, Utah no longer honors off highway vehicle registration from other states. If you are visiting Utah with your off-highway vehicle and want to obtain a permit to operate the vehicle in Utah, you can purchase the permit at the Junction General Store one block east of us at 70 S Main Street, Junction, Utah. The permit costs $30 for each vehicle and is good for 12 months from the date of purchase. Click here at this link to find out about this new requirement (click here).

BUS FOR SENIORS AND THOSE WITH A DISABILITY: Piute County has a bus that will take you to medical appointments, shopping and other local events. Click on this link (bus information) to see the schedule, cost and places the bus goes. The bus will pick you up and drop you off right here at the Junction RV Park. You can also visit the Piute County Public Transit Bus Facebook Page at this link (click here) for current information.


CITY PARK: There is a City park one block west of us on the other side of Center Street. The park has a playground for children as well as a tennis court, basket ball court, sand volleyball court and a baseball field. You'll need your own equipment (tennis rackets, balls, etc.) but the facilities are available and close by.



ANNUAL EVENTS: There are a number of annual events in Piute County that may interest you. If your travels bring you here during the summer, you might like to visit: Butch Cassidy Days (and rodeo) in Junction, the Circleville 4th of July Parade and Fire Works display, the Marysvale Rodeo. the Annual Piute County UTV/ATV Jamboree, and the Annual Panguitch Valley Balloon Rally in Panguitch (about 35 miles south on US 89).


Marysvale Rodeo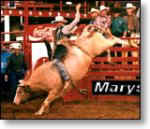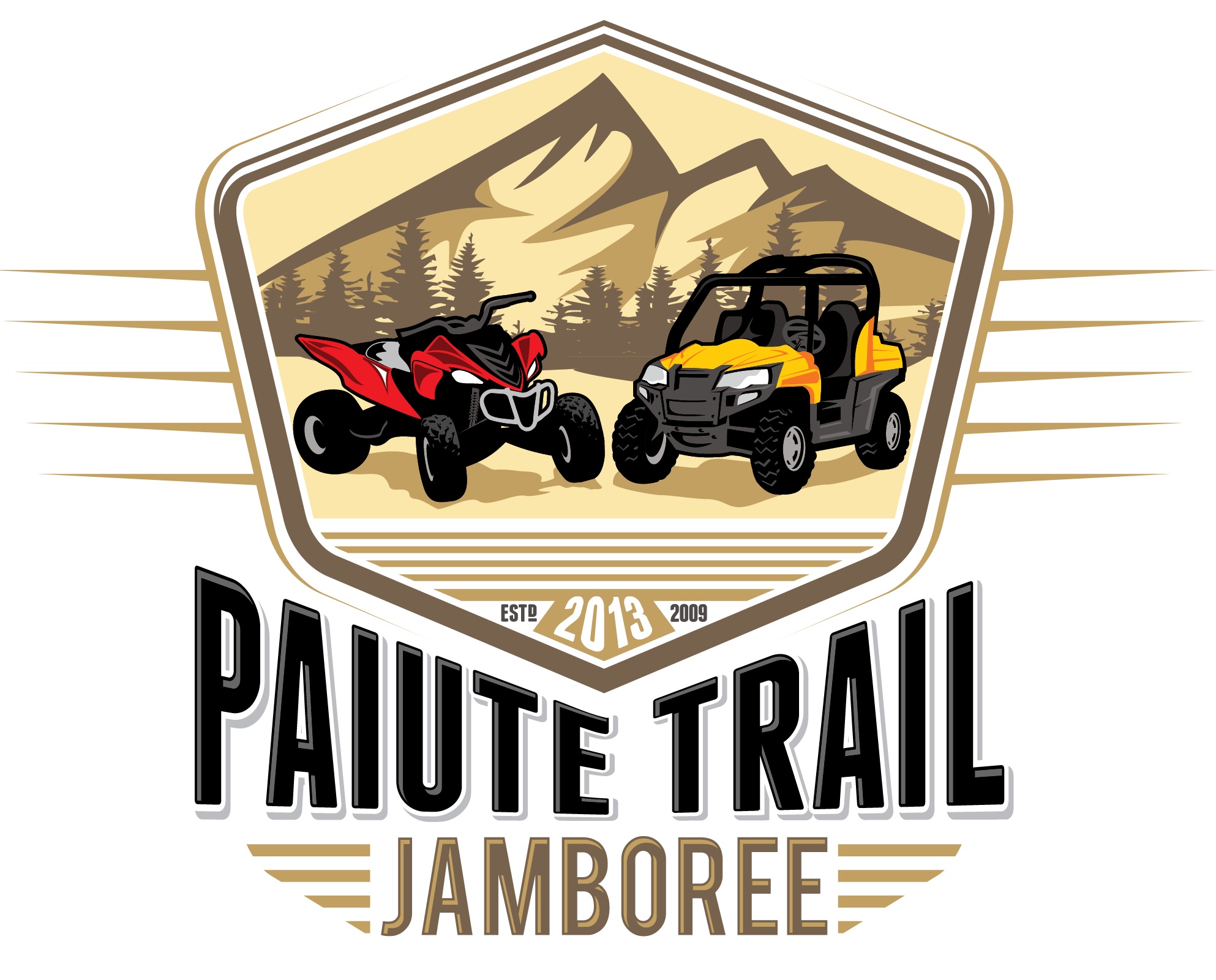 Paiute ATV / UTV Jamboree YouTube:


MEDICAL SERVICES: There is a hospital and pharmacy in Panguitch, Utah, approximately 34 miles south on Highway 89 with 24 hour emergency care. You can visit the Garfield Memorial Hospital web page at this link or call them at 435-676-8811. There is another hospital with 24 hour emergency care located in Richfield, Utah about 45 miles north on Highway 89. You can visit the Sevier Valley Medical Center at this link or call them at 435-893-4100. There is also a small medical facility in Circleville, Utah, about six miles south on Highway 89. You can call them for their hours and services: Circleville Clinic (click here), 110 S 100 E, Circleville, Utah, 435-577-2958.

IF YOU HAVE A MEDICAL EMERGENCY WHILE STAYING WITH US: It would be best to have the camp host call 9-1-1 from our land line. That way the Piute County emergency team will be notified sooner and an emergency team will respond (there is a medical emergency office with an ambulance located in Junction). Calling 9-1-1 from a cell phone will require a dispatcher to locate you so they can send the appropriate response team.


THE NEAREST AIRPORT: is in Cedar City, Utah, about 80 miles from Junction. They have daily commuter flights to Salt Lake City and beyond. CLICK AT THIS LINK to obtain information about the airport and AT THIS LINK for info on the commuter flights.


JUNCTION AIRPORT: Did you know the town of Junction has it's own airport? For those of you that fly private planes, you have a local option for landings and takeoff's. You can find information about the Junction Airport at the link provided.


**FREE WINTER 'IN SPACE' STORAGE: If you rent from us during our summer season (from about mid May to about Mid October) at our normal monthly rate, and plan to do so again the following season, you can leave your trailer or RV parked in your space during the winter for free. The park will be closed during the winter and all utilities disconnected, but you'll have a place to keep your rig and it will be ready for use when we open.


The Piute County Chamber of Commerce has a lot of good information about Piute County including links to the many business that operate in Piute County and links to recreation opportunities. (NOTE: The Chamber has temporarily closed, hopefully they will be up and running again soon).


We have some simple rules that we hope will allow every guest to enjoy themselves,

click at this link to view them.

To view our rates: Click here to view our rates. (our rates have increased for the 2021 season).
**We do not take credit cards, cash or checks only please.


Click on this link to see milage to and from Junction to various National Parks and other destinations.

GPS coordinates

Latitude 38 degrees 14', 11.61" N, 112 degrees 13', 20.67" W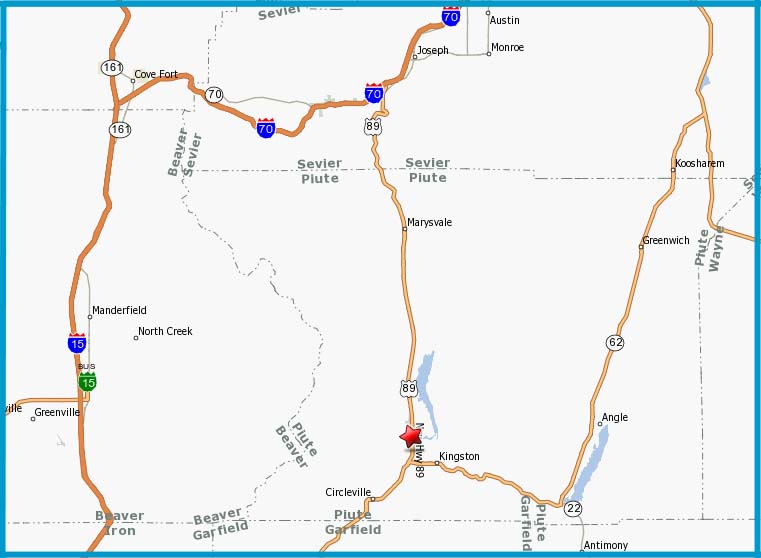 Click on map for Mapquest Link
Click here to view or download a brochure for Junction RV Park (.pdf format)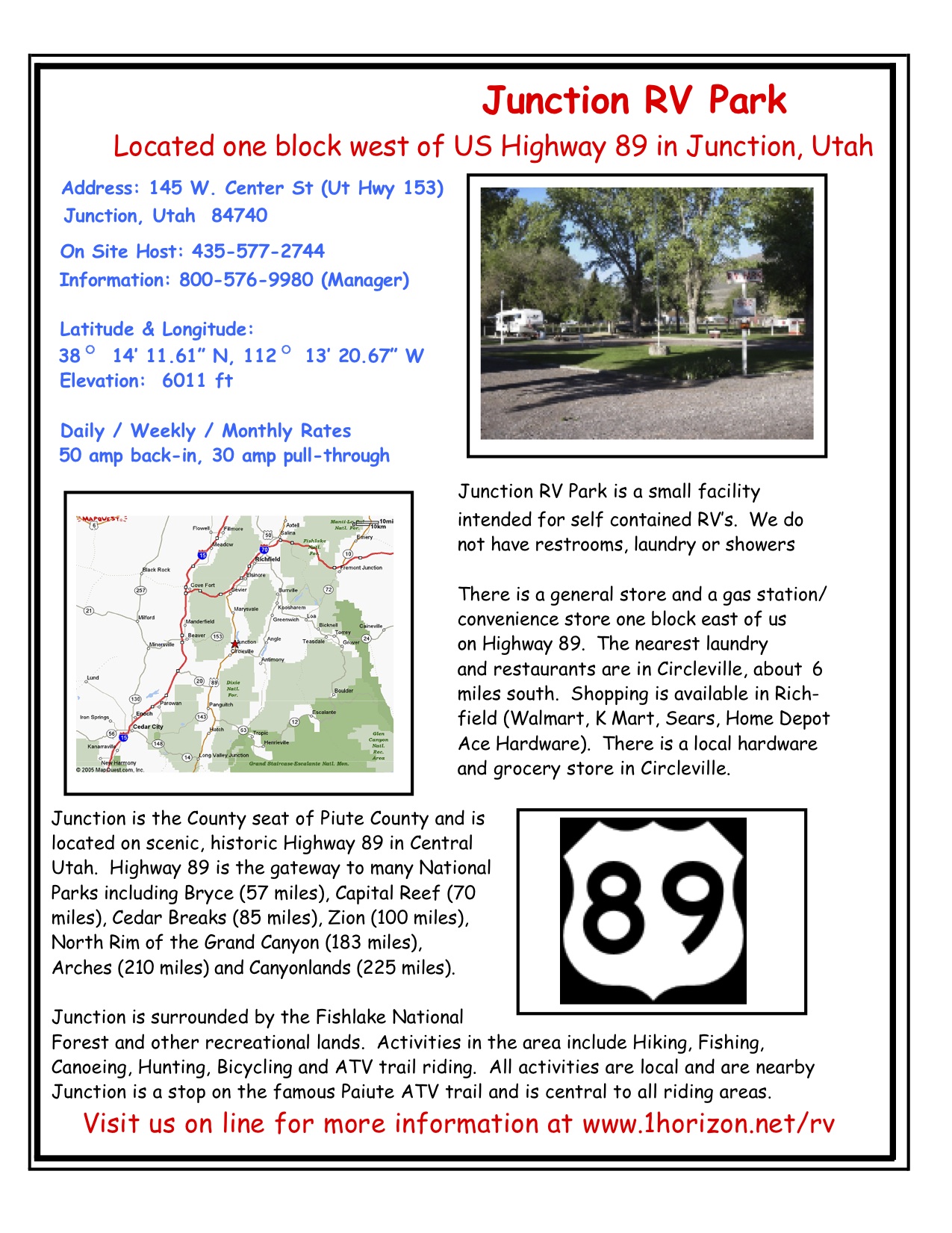 Click here to see a Web camera for conditions in the mountains above Junction:
Garfield County Trails
Central Utah destinations
Eagle Point ski facility (Bever Utah)
Piute ATV Trail
Utah Scenic Byways
ATV repair: "On the trail ATV repairs" 435-633-5700 email them at: onthetrailatv@yahoo.com

Fly Fishing in Utah: (Complete guide to fly fishing in Utah).

CONTACT US:

The on site camp host can be reached at 435-577-2744 during the summer season. Call direct for reservations.

Or, you can contact the RV park operator, Randy Farrar or Debbie, (Horizon Realty)
at 800-576-9980 for additional information or to make a reservation.
or, you can send an email message to Randy Farrar, by clicking here.